SURPRISE! It's a virtual baby shower for dear
Mandipidy
, who's expecting little Abigail some time around August 10th! I'm linking up with some other bloggers via
Gina
and I can't wait to see the other posts!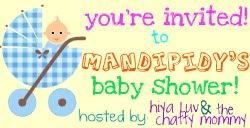 Since I don't have any kids of my own (and therefore no advice to give!), I thought I'd make Mandy some thank you cards! I imagine she'll be showered with gifts and meals once the baby arrives and I bet she'll be be happy to have some note cards on hand to say Thanks!
I had fun with the design. I ended up making two sets of five note cards - one with an elephant and one with a cute little spider. I can't decide which one is my favorite!
Well, Mandy... I hope you like the cards as much as I enjoyed making them. CONGRATULATIONS on little Abigail (can't wait to "meet" her!) - blessings to you and your family!!