(**I'm linking up with

Gina from Hiyaluv

for "Take Your Blogger to Work Day"!)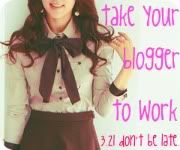 Other than a few awkward years in third and fourth grade when I wanted to be an actress so I could marry
Brad from Home Improvement
, I've always known that I would be a teacher.
As the oldest of three children, I've always been: 1) bossy, and 2) really bossy. So telling other children what to do all day just seemed like a natural fit!
I'm kidding. Sort of.
But I am the child of two teachers, in a family of teachers. It's in my blood and I think that from a young age, I knew better than to fight it.
In high school, I was challenged to think about
what kind of children
I wanted to teach. And because of my fascination with language learning and acquisition, I went into
oral deaf education
. That means that I teach language to children with hearing loss through listening and speaking. All of my students wear hearing aids or cochlear implants. I don't use sign language! (although I wish I knew more, just for fun!)
I am one of those incredibly blessed people who can say that they are doing their dream job! (Right now I'm teaching first grade and I love this age!) Sure, I have my share of rough days... days when the administration seems like they're TRYING to make me fail, days when I feel discouraged, days when I need to step away from my students to calm down. But there are all those other days.... days when the kids make me smile, when they finally "get it", when I get to channel my creativity into planning engaging lessons and making materials.
Also? June, July, and August. Just sayin'!
Being a special education teacher also gives me some special skills:
I can say things like: "You don't have to pull your pants all the way down to pee" with a straight face.
I know what the word "diphthong" means.
I can tell immediately when a kid hasn't had his meds.
I know if there's going to be a full moon without ever looking outside.
I have a large bladder.
From down the hall and around the corner, I can tell when someone's brought goodies to the teacher's lounge.
I can run in my heels after a kid who's decided he'd like to play outside instead of do his work in the classroom.
I can make a 27 page legal document understandable to a parent.
And finally....
I know how to make almost any activity educational! See pictures below for proof :)