Can you believe that May is winding down to a close? This means a few things:
Field Day
The highly anticipated school-wide event is happening today! I'm all slathered up with sunscreen and ready to nail some kids with my water gun! (Or more realistically with this hot weather in my pregnant condition, I'll be inside the building babysitting the kids who are in trouble.)
For the month of May, I'm donating 10% of all my sales to
The Sparrow Fund
to help adoptive families. I'm thankful my little
shop
has had a good number of sales this month already, and if you haven't done so, please check out
the list
of other talented vendors who are participating!
June Sponsorships
Wanna support each other? Sponsorship is a great way to do that! I offer
very affordable rates
, and you get a lot of bang for your buck around here.
- Over 4,000 page views a month
- Over 150 Facebook followers
- Over 1,200 Twitter followers
- Over 320 Pinterest followers
Options start as low as $5.00.
Check out all the options here and shoot me an email!
sarah [at] yesteachercrafts [dot] com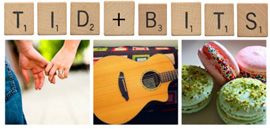 PPS: Would you like to
guest post
for me when Baby Boy arrives?